Musicinfo Get Started Guide
---
Welcome to Musicinfo! Here you will find information and links about how to distribute and promote your music to China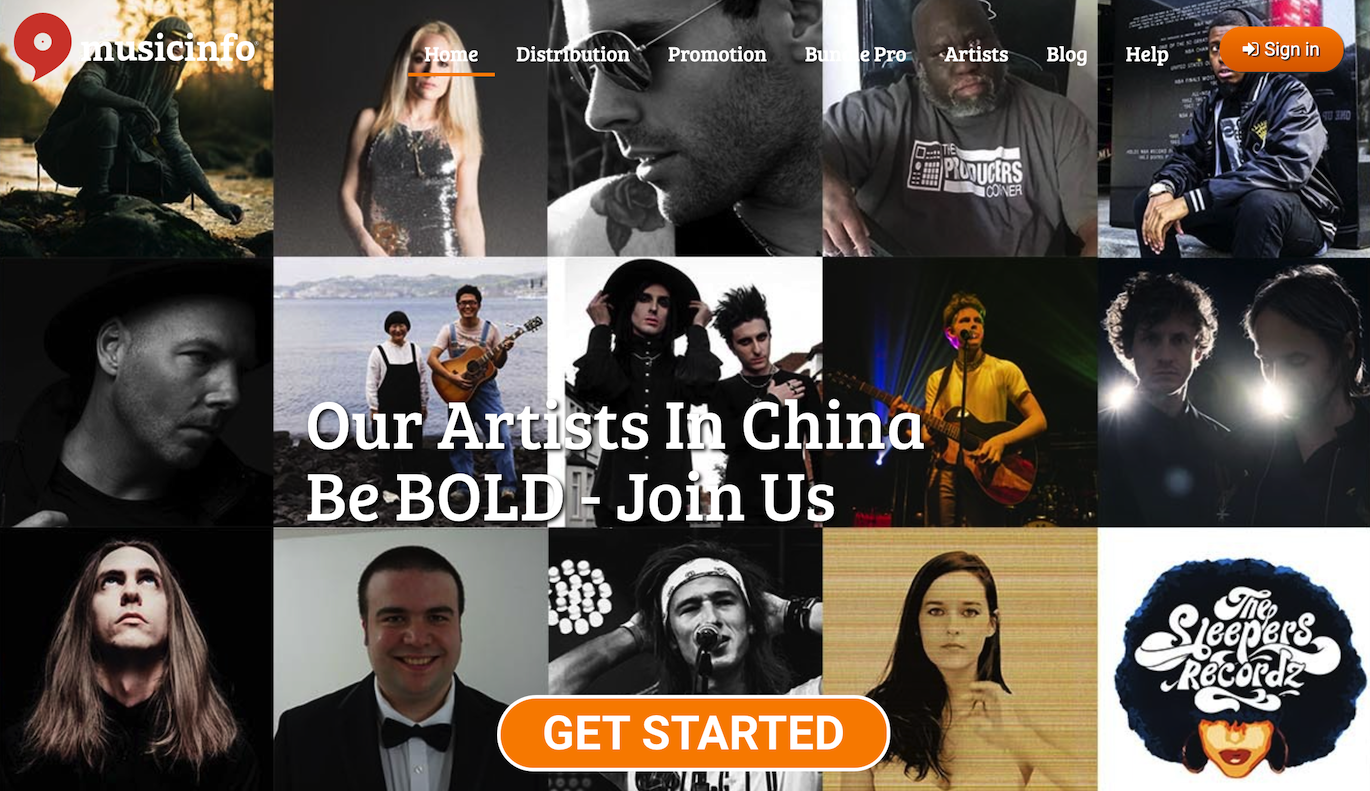 Welcome to Musicinfo, Why Choose us
We specialize in distribution to China with over 50 services and now offer sync opportunity to China and distribution to South Korea to: Melon, Bugs!, Naver VIBE, FLO and Genie.
What we offer you at Musicinfo is the possibility for you to reach a potentially massive new audience, by providing you with a unique opportunity to distribute and promote your digital music in Mainland China.
See China in a new light, where copyrights are protected and streaming services work more or less the same way there as in the rest of the world. The new global markets of Asia (China and India) and Africa are our new audiences and hold the majority of the earth's population. China is only one step in building a current modern frame of mind where sharing your music to the entire world is possible and secure.
We can distribute your music if you have already distributed your music to Tencent (TME: QQ Music, Kuwo, and Kugou) and/or Netease. Many distributors distribute now to one or both of these streaming services in China. We offer 50+ more services in China from which you can collect royalties if you also distribute with us and you may continue to use your current distibutor to get your music to TME and/or Netease.
We cannot duplicate distributed music to China except TME and/or Netease
Please ensure that your music is NOT already distributed to China with another distributor with the exception of TME and/or Netease. You may use our Finder if you are unsure if it is already available in China. If you do find your music has already been distributed in China please contact us to learn about your options. In many cases it is possible to use our extensive services to distribute your music by opting out of China distribution from your current distributor. It may also be the case that if you are unaware that your music has already been distributed to China we may assist in helping you to claim your copyrights. In any case we are more than able to promote your music in China with social media posts, video sharing and playlisting.
China is Unique
China is unique because it has been a closed country and therefore resistant to outside influence. Now that it is accessible, new music and culture is flooding the populations of new ears. The audiences in China are hungry for new sounds and are in the process of identifying with the pop cultures and influences from abroad.This means that your music has an new audience waiting eagerly to follow.
You can see from the 2018 global report from the International Federation of the Phonographic Industry ifpi.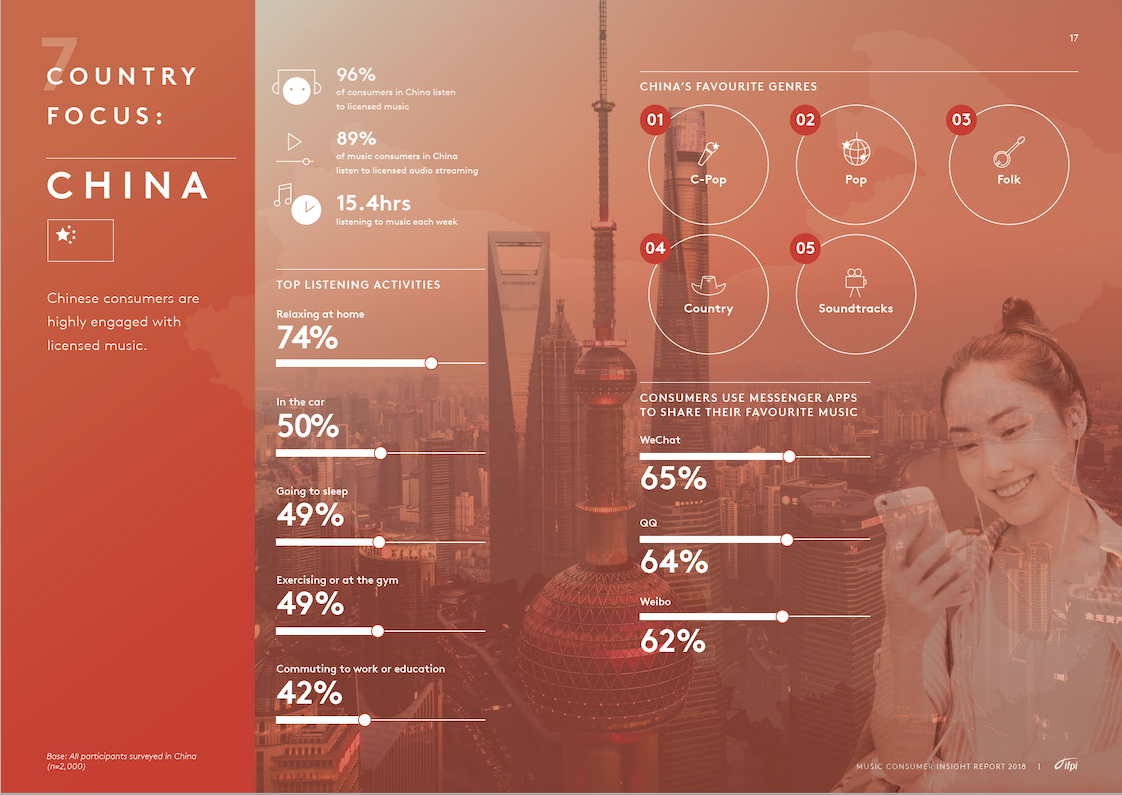 Get Access Where There is No Access
To work around these restrictions, our company has created an intuitive and legally compliant music distribution platform which can help you distribute your music to over 33 music service providers in Mainland China.
Artists who would like to have more influence on their presence in China can also promote their music with social media posts, video and playlists. As you may or may not know, Facebook, Youtube, Vimeo, Spotify, Deezer, Pandora, Tidal, Google Play etc. and most other Western social media and streaming platforms are not available in China.
By using our distribution platform, you can upload your music together with the required information such as copyright and lyrics as well as your artist profile complete with your artist bio and picture for the Chinese streaming sites, blogs and social media.
Check out this link for a short list of our partners: https://musicinfo.io/streaming-services
Distribution
WE CANNOT DISTRIBUTE MUSIC THAT HAS ALREADY BEEN DISTRIBUTED TO CHINA VIA AN OTHER DISTRIBUTOR(with the exeption of TME and/or Netease) and WE CANNOT DISTRIBUTE COVER SONGS
We can distribute any genre of music and if you are unsure please inquire.
Search For Your Music in China
We have since developed the China Search App to see if your music is already there. It only searches the 2 largest streaming services QQ and Netease, so if your music is not there then most likely it is not in China. https://finder.musicinfo.io/
If you find that your music is in China and you would still like to use our services, please inquire with your current distributor of the possibility. If you are distributing your music through Cdbaby for example, there is the option to choose the territories in which you would like to distribute your music. We have customers who distribute their music to the rest of the world excpt China by opting out of the territory of China in their other distribution service.
Distribution Plans
You can find the Distribution Plans from the distribution page: https://musicinfo.io/distribution
To get started, select and purchase a distribution plan that fits the number of releases* you have or you want to distribute from a choice of the following 4:
– Star Distribution - 1 release
– Bronze Distribution - 3 releases
– Gold Distribution - up to 10 releases
– Platinum Distribution - up to 100 releases
*1 release = 1 song / 1 album / 1 EP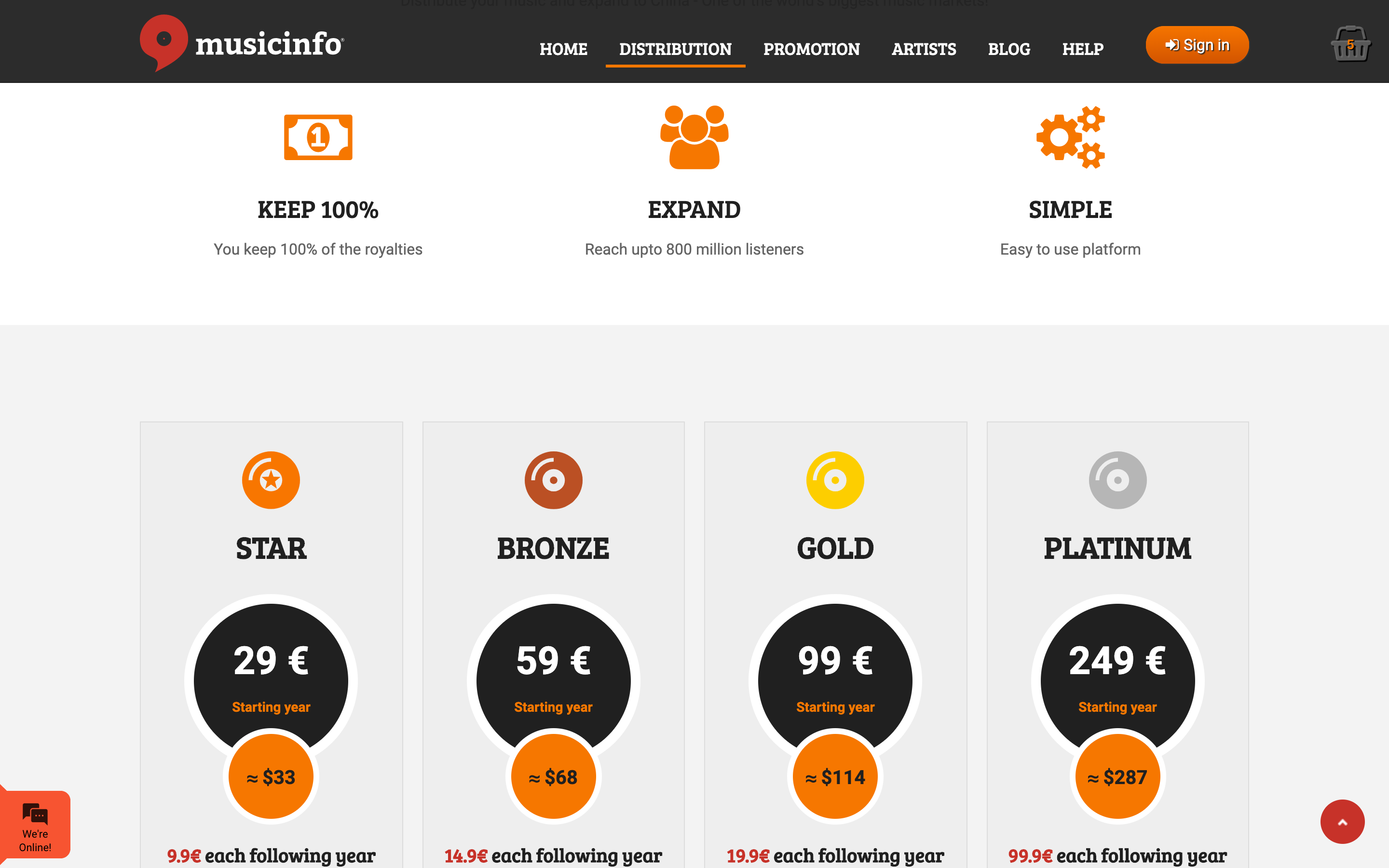 Your Musical Real Estate in China
Its a whole new world, and an investment for your musical presence for the long run. We let everyone know upfront because in our fast pace world people expect results NOW:
Your music is live typically in 3-5 weeks, this is not without exception as it can occur in system updates that a certain album may be delayed. But also in the possibility to fast track your music when highlighting exceptional new releases to the streaming services can make the release live sooner.
Royalties are calculated 4 times a year (every 3 months) with a 6 month sorting period, so your first report comes 6-9 months after your music is published. You keep 100% Royalties.
All music will be sent to all music services, but if there is no usage or streams then it will not be shown on the statistics report.
Our Extensive Reach to China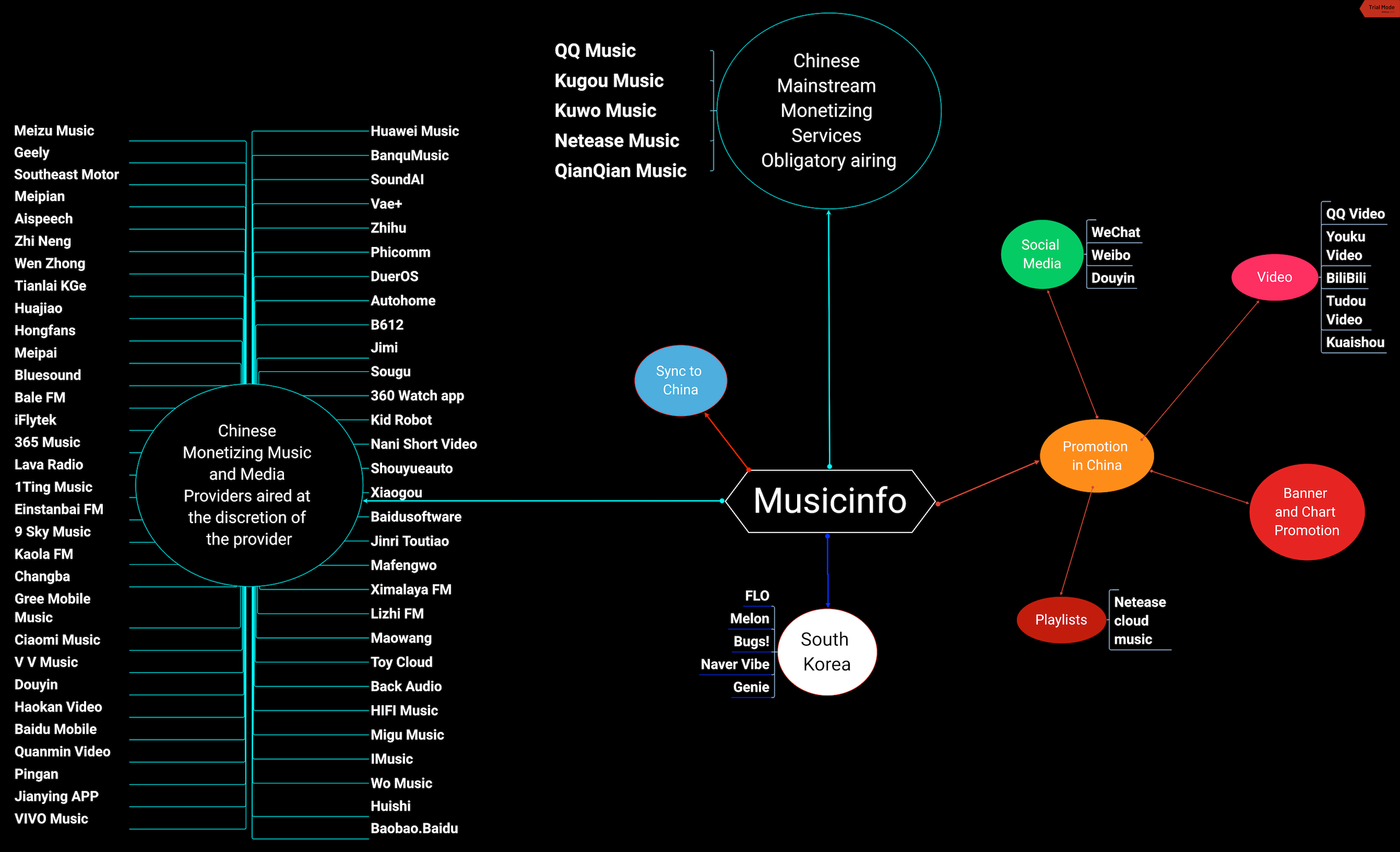 ---
Our Reach to China is Unmatched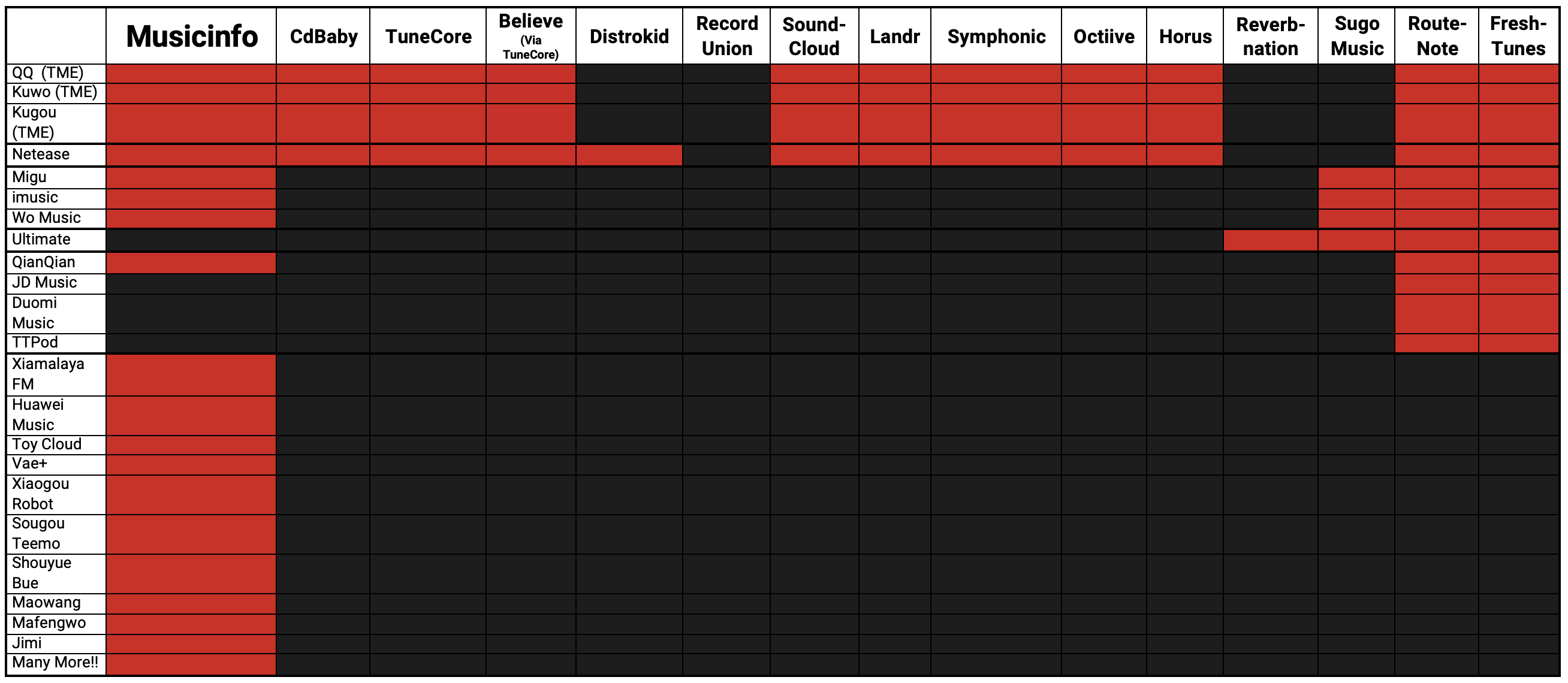 Full Distribution List: https://musicinfo.io/distribution-list/
---
Your Cart
Once the product is added to the cart you would go to the check out: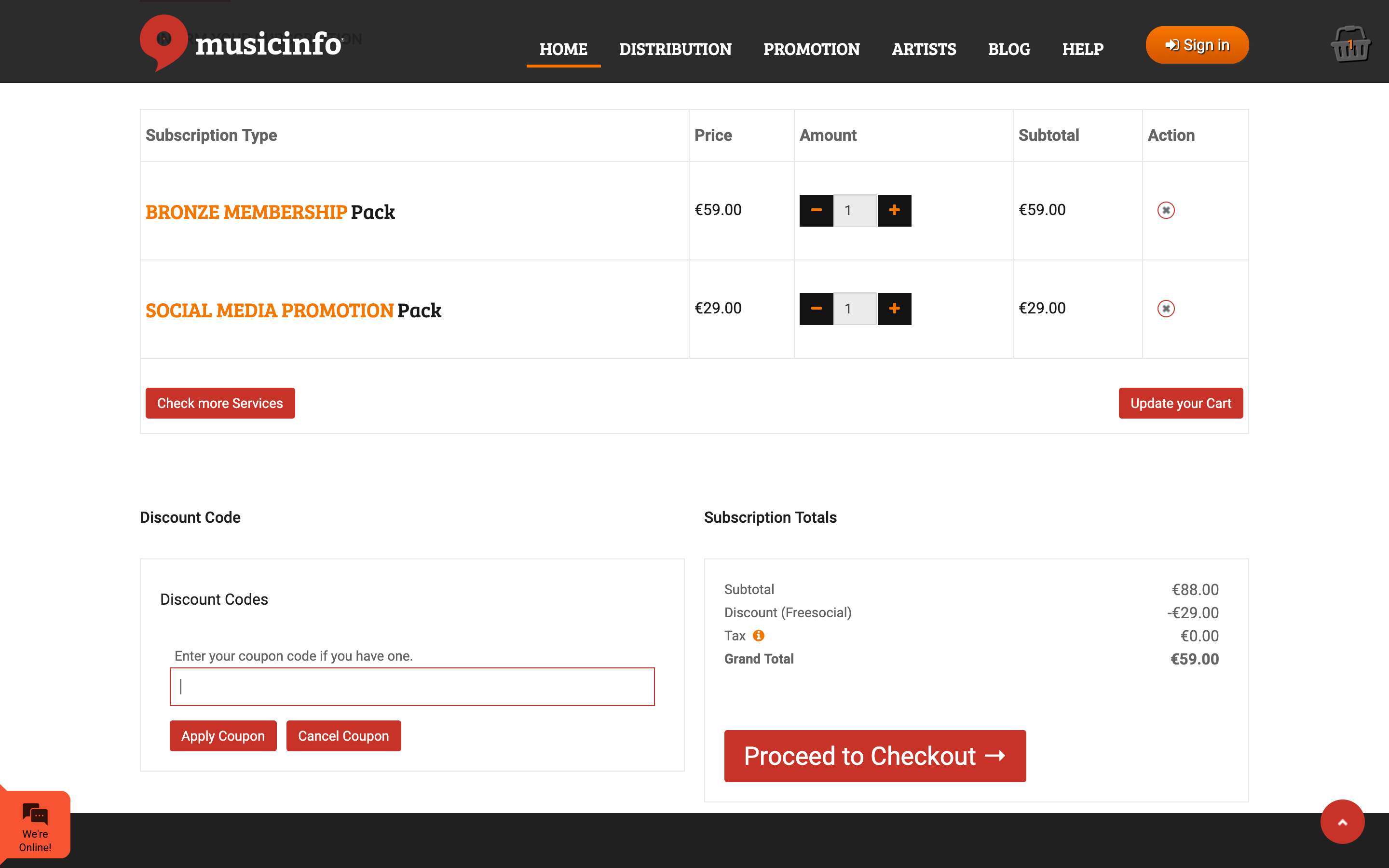 ---
And then check out. Remember to use your CODE here to apply the free offer or discount! Check the home page to see our most current campaign.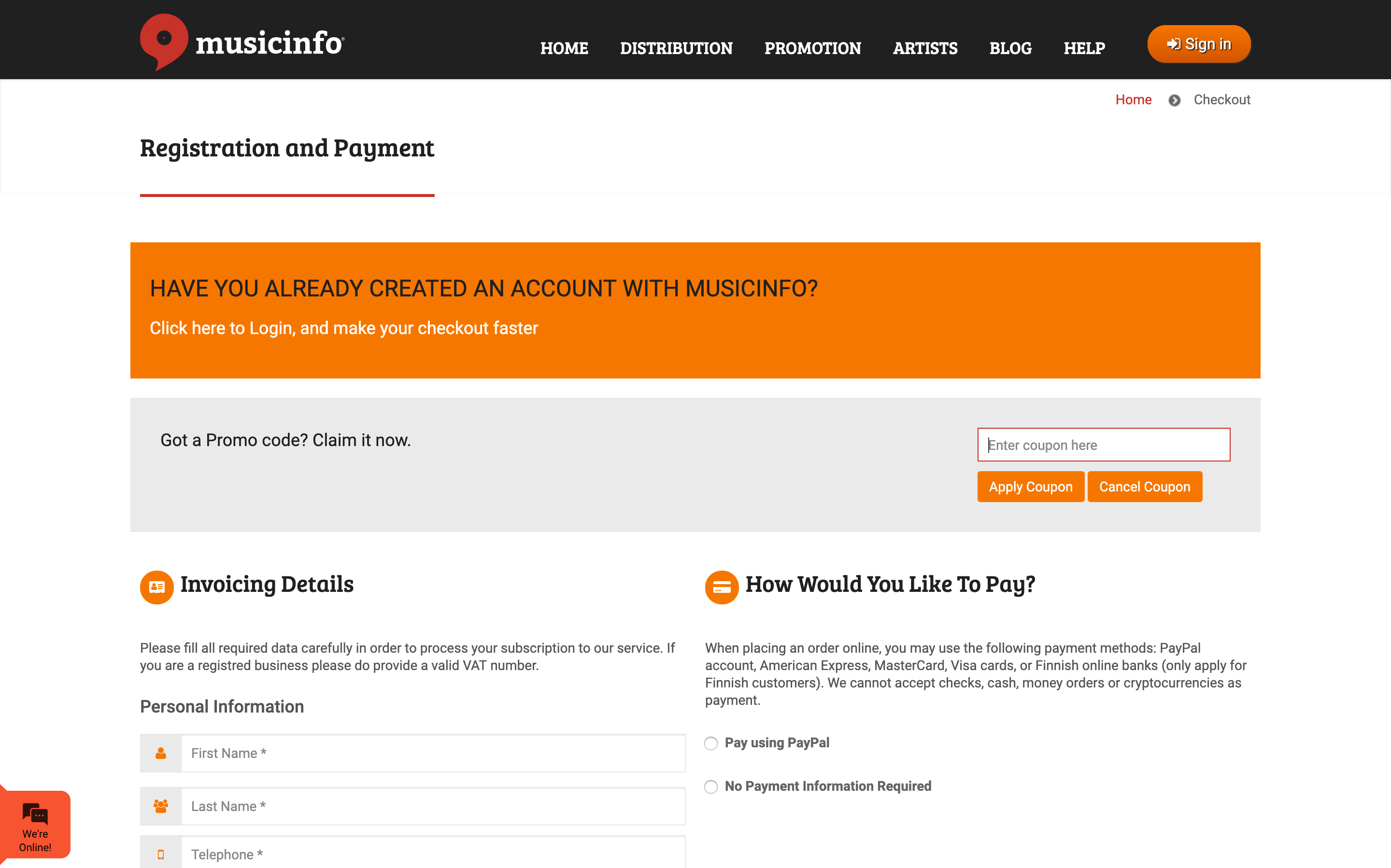 ---
At this point you would add your invoicing details to make the purchase. Once the purchase is made you will receive 3 email letters:
Welcome letter to Musicinfo with your password to sign into the webstore:

Musicinfo.io

where you can check your account and purchases.

An invoice for your purchase (user guide included),

A letter with a link and 2nd password to the distribution platform: distribute.musicinfo.io
---
The Distribution Platform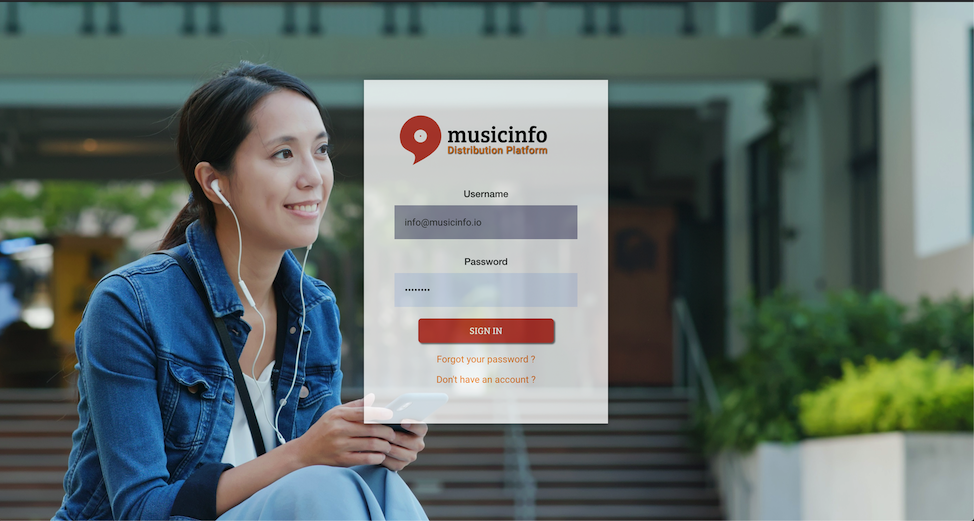 ---
After login you will be prompted to reset your password and update your profile information to proceed.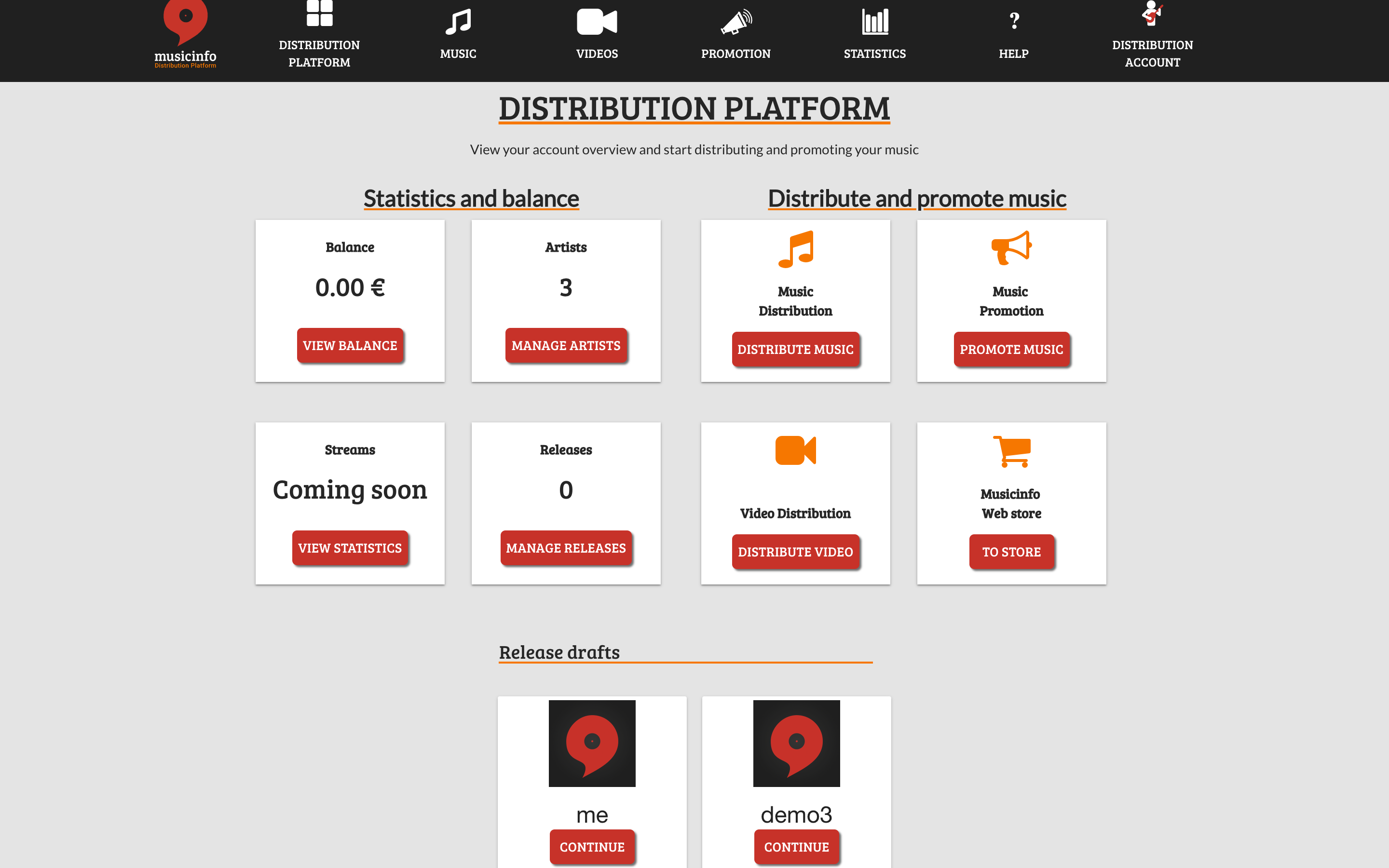 ---
How To Upload
To see the uploading process in the distribution platform please watch this tutorial.

Technical requirements, metadata, copyright information needed to upload your music.
For the best user experience, you must use the distribution platform on your laptop or computer and NOT on your mobile device (phones/tablets). We also recommend using the Chrome browser for the distribution platform. The distribution platform does not support emojis.
What happens after you upload your music to our platform?
We distribute your music to the top five major streaming providers in China: QianQian Music, QQ Music, Kuwo Music, Kugou Music and Netease, from which you will collect royalties. It typically takes 5 weeks for the music to go live from the time of publishing on the distribution platform. Delays may be possible in the event of extenuating circumstances.
In addition to these major Chinese music providers, we will send your music to 50+ (please see chart for breakdown) Chinese music promotion companies and Chinese radio stations. Be aware that the selection and airing of your music is at the sole discretion of these providers, however most of the music we send them is usually selected and then published due to the demand for and interest in Western music. You will collect royalties in the event that your music is aired on these services. The time it takes for your music to go live on these services could be considerably longer compared with the major distribution services.
We check that all the data is correct and that the music has not been duplicated across music services.We then send the metadata with the music files to China where it is checked in relation to legal copyright before it is distributed to the music providers. This requires manual work and may considerably affect the duration of the sorting and distribution process.
The statistics are calculated on a quarterly basis, so 4 times a year. Data is collected at the end of each term at which time the sorting and reporting period begins, which is done manually due to the lag in automation of these procedures. The sorting and reporting period takes 6 months due to the manual processing and the vast amount of data collected from all of our music providers, this means that from the time your music is live, it will take between 6 to 9 months for you to receive your first report and royalties. After your first report, you will receive consecutive reports every 3 months.
We are not notified when your music is live in China, therefore it is best that you check from the China Search app found from our home page to check if your music is there, typically around 5 weeks from the date you publish your music from the distribution platform. https://finder.musicinfo.io/
How do I get paid for my music streams?
Musicinfo pays artists 100% of ALL their royalties for the streams their music gets on the Chinese streaming sites we work with. We do not pay your publishing via performing rights organizations such as BMI, ASCAP, PRS or SOCAN, etc. We pay artists directly. The first streaming reports and statistics will appear on your account dashboard within the distribution platform after 6-9 months from the time your music went live and was streamed. When you receive your report you will send us a request to withdraw your accumulated royalties, we will send you instructions for you to send us an invoice for the requested amount. How to Withdraw My Royalties. You will be paid within a few days. For more information about our terms of distribution please follow this link: https://musicinfo.io/terms_of_use_distribution/
How do I promote my music in China?
Once your music has reached China, it's a good idea to promote it. Musicinfo offers artists 3 promotion plans to help artists gain visibility and get their music to more listeners and increase their number of plays. You can check out our promotional services here: https://musicinfo.io/promotion
We can also make playlist inquiries for add your chosen track to lists with a typical following of over 1 million followers; Playlist inquiry costs 120€ and is payable upon playlist placement. This is for promotion only and will not return any direct royalties except for the indirect influence it may have on the monetizing streaming services your music is utilized.
We work strictly with the Chinese Social Media apps, Weibo, WeChat and Tencent as well as QQ Videos http://v.qq.com/, Youku https://www.youku.com/, Tudou https://tudou.com/, UC Toutiao https://www.toutiao.com/, Kuaishou https://www.kuaishou.com/ , Douyin https://www.douyin.com/ and BiliBili https://www.bilibili.com/
In Mainland China, social media and video platforms are blocked. You can find a list of all apps and websites that are blocked in mainland China from here: https://en.wikipedia.org/wiki/Websites_blocked_in_mainland_China
If you are located in countries such as China, U.S.A., Canada, Brazil, Malaysia, Australia, Japan, Korea, Singapore, England, France, Russia, India, Thailand, Germany, Italy, Spain, Indonesia, Cambodia, Myanmar, Brunei, Philippines, Vietnam, Laos you will be able to create a Weibo account for free.
Weibo is is a Chinese microblogging website. You can find a tutorial on how to create a Weibo account here:

As a Musicinfo customer you also gain the benefits of our affiliate partners please take a look here: https://musicinfo.io/partners
You will get exclusive information once you become a member of Musicinfo.
A word from CEO Kari Halttunen and Business Manager Han Zhang
Please read more about OTEC and our award in our blog here: https://musicinfo.io/blog/start-up-prize-otec/
Phone Contact
If you would like to be contacted by our artist realations to discuss your options or answer any questions you may have please fill in the form below.
Support and Links
If you have any other questions please feel free to get in contact with us at: support@musicinfo.io.
Please subscribe to our Youtube Channel: https://www.youtube.com/user/musicinfooy
If you have a youtube channel please send us a message and we will follow you!
For more information about us, the Chinese music market, and current trends please browse our blog page: https://musicinfo.io/blog/
For more information about the upload process, file and image specifications please look at the FAQ page.
Follow us on Facebook: https://www.facebook.com/musicinfoGlobal/
Instagram: https://www.instagram.com/musicinfo.io/
And Twitter: https://twitter.com/musicinfoGlobal